Date de création

Middle of the 2nd century (?), based on an original created around 430 BC

Type

Of the "Velletri" type

Material

Göktepe marble (Turkey)

Dimensions

H. 61 x l. 23 x P. 16 (cm)

Inventory number

Ra 113
Here the aegis is clearly visible just below the goddess's neckline, a goatskin trimmed with snakes and stamped with the head of the Gorgon Medusa. This armour, which is both defensive and offensive, together with the spear and the shield, is part of the warrior attributes of the daughter of Zeus.
This bronze statue, attributed to Kresilas, a sculptor of Cretan origin, was designed around 430 BC, and is said to have served as a model to the Roman sculptor. The right arm was raised, and her hand probably held a spear that rested on the ground. It is likely that the left arm, slightly bent, would have been pointing downwards, the hand likely resting on a shield.
The Louvre museum owns a colossal marble replica of this statuette, which is over three metres tall, and was discovered in Velletri, near Rome. Size and attitude are likely to conform to the original statue, while the arms are part of a modern restoration by Vincenzo Pacetti (1746-1820) M. Nocca, « Dalla vigna al Louvre : la Pallade di Velletri, » Museo Studi e Ricerche 1, 1997.. This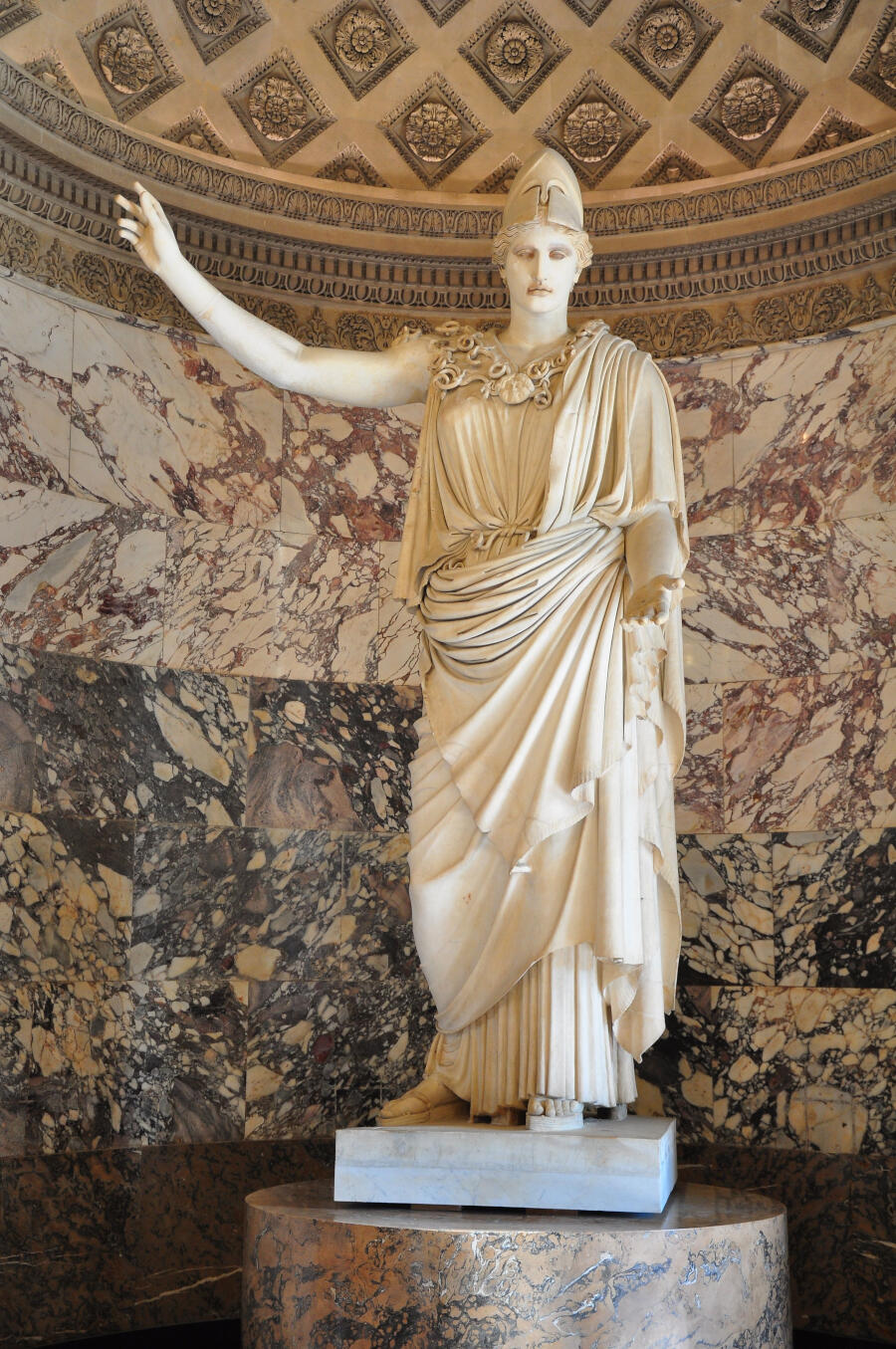 « Pallas Velletri » was linked to fragmentary plaster casts discovered during the excavation of a Roman copyist workshop in Baiae, near Pozzuoli (Campania). The moulds had been made directly on Greek originals or copies of originals, thus testifying to the practice of moulding. These negative impressions are of great importance when trying to understand how works were replicated. Having acquired them, these more or less busy workshops could use them to design copies and variants intended for the Italian art market, the repute of which explains their commercialisation.
Although the statuette discovered in the remains of Villa Chiragan is therefore of the same type as the large statue in the Louvre, there are nevertheless some differences. The aegis and the draped fabric boast particularly deep folds, creating a more sophisticated play of light and shadow than in the monumental work. Other details distinguish the two replicas, such as the belt around the chiton or the length of the mantle. The two sculptures should not therefore, be seen as strict representations of the Greek type.
P. Capus
Bibliography
Cazes

et al.

1999

D. Cazes

,

E. Ugaglia

,

V. Geneviève

,

L. Mouysset

,

J.-C. Arramond

,

Q. Cazes

,

Le Musée Saint-Raymond : musée des Antiques de Toulouse

, Toulouse-Paris

.

p. 109-110

Espérandieu

1908

É. Espérandieu

,

Recueil général des bas-reliefs de la Gaule romaine, 2. Aquitaine

, Paris

. no 907

Joulin

1901

L. Joulin

,

Les établissements gallo-romains de la plaine de Martres-Tolosane

, Paris

. no 136 D

Rachou

1912

H. Rachou

,

Catalogue des collections de sculpture et d'épigraphie du musée de Toulouse

, Toulouse

. no 113

Reinach

1897

S. Reinach

,

Répertoire de la statuaire grecque et romaine

, Paris

. no 292

Slavazzi

1996

F. Slavazzi

,

Italia verius quam provincia : diffusione e funzioni delle copie di sculture greche nella Gallia Narbonensis

(

Aucnus

), Naples

.

p. 40-41, 185-186

Bulletin municipal Toulouse 1936 Bulletin municipal Toulouse, Bulletin municipal, Toulouse

.

p. 830
To cite this notice
Capus P., "Statuette of Athena", in The sculptures of the roman villa of Chiragan, Toulouse, 2019, online <https://villachiragan.saintraymond.toulouse.fr/en/ark:/87276/a_ra_113>.