Statuette in the manner of the Eros of Centocelle
Date de création

2nd century(?)

Material

Marble

Dimensions

H. 30 x l. 15,5 x P. 12 (cm)

Inventory number

Ra 184
This is one of the thirty antique replicas referred to as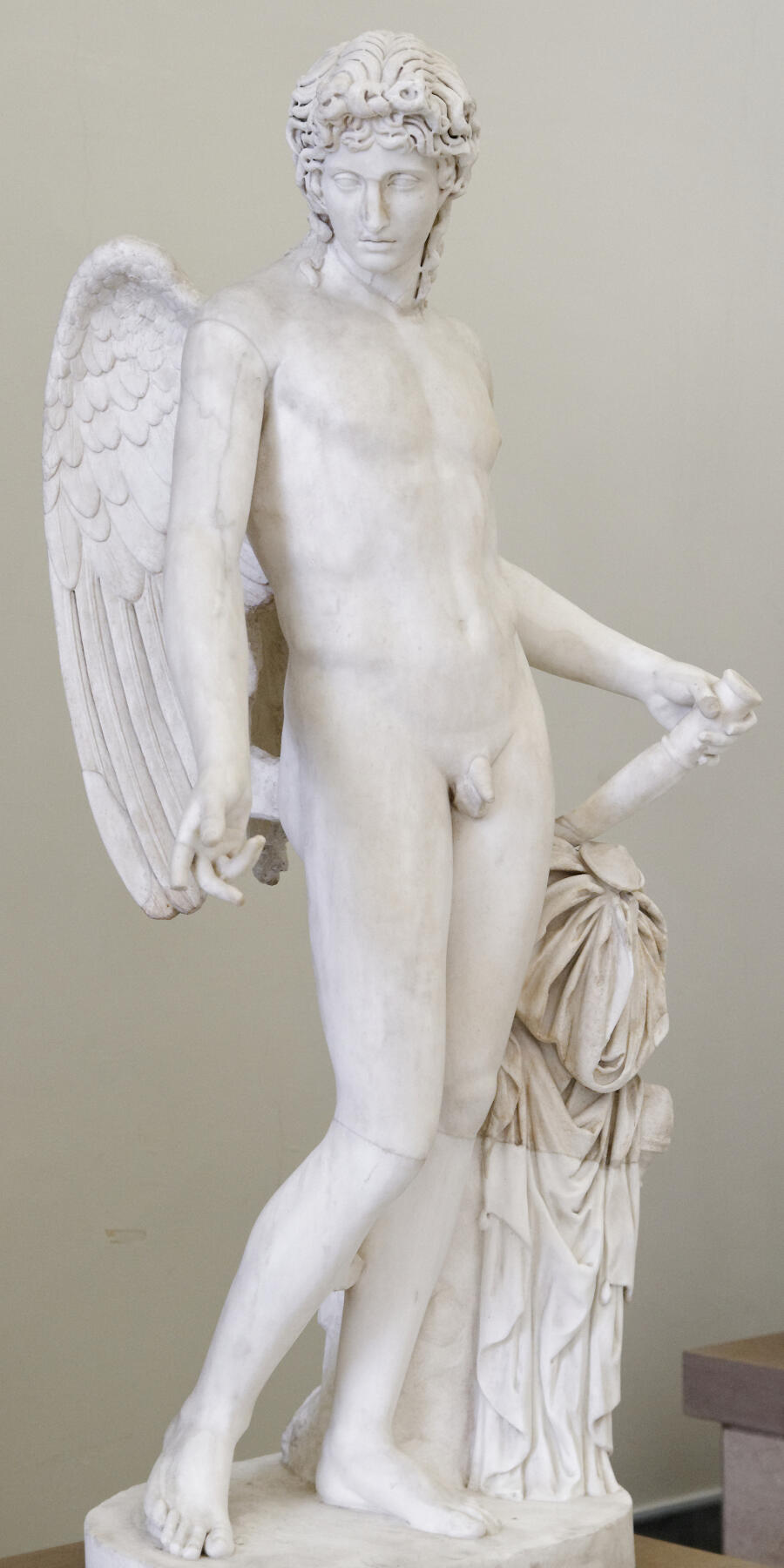 « of the Centocelle type » because of the specimen discovered during the 18th century in Centocelle on the outskirts of Rome. The work was included in the Pontifical collections at the Vatican. With a quiver at his feet, a bow in his left hand and an arrow in his right, this winged Eros looks languidly to the right. Although it has long been regarded as a replica of a masterpiece by Praxiteles or his school, because of its unexpected combinations, this iconographic type could be considered a « classicising » work. Admittedly, Eros does retain the main lines of classical Greek sculpture, such as standing with his weight on one leg, or the smooth lines of the model, but some later elements, such as the abundant curly hair, make it more difficult to determine a date and style. It is therefore likely that this Eros is a composite Roman creation that reflects widely known classical and Hellenistic artistic processes A. Pasquier, J.-L. Martinez, Praxitèle. Exhibition, Musée du Louvre, Paris, 23 March - 18 June 2007, Paris, 2007, p. 356 et 358, no 96..
This creation must have enjoyed great popularity among the Roman elite, as it was widely reproduced and spread throughout the Mediterranean basin, as shown by the small version discovered at Villa Chiragan. These pastiches are therefore characteristic of a type of statuary created in Roman times for purely ornamental purposes.
P. Capus
Bibliography
Cazes

et al.

1999

D. Cazes

,

E. Ugaglia

,

V. Geneviève

,

L. Mouysset

,

J.-C. Arramond

,

Q. Cazes

,

Le Musée Saint-Raymond : musée des Antiques de Toulouse

, Toulouse-Paris

.

p. 114

Joulin

1901

L. Joulin

,

Les établissements gallo-romains de la plaine de Martres-Tolosane

, Paris

.

fig. 188 E

Pasquier

,

Martinez

2007

A. Pasquier

,

J.-L. Martinez

,

Praxitèle. Exhibition, Musée du Louvre, Paris, 23 March - 18 June 2007

, Paris

. p. 358, no 96

Rachou

1912

H. Rachou

,

Catalogue des collections de sculpture et d'épigraphie du musée de Toulouse

, Toulouse

. no 184
To cite this notice
Capus P., "Statuette in the manner of the Eros of Centocelle", in The sculptures of the roman villa of Chiragan, Toulouse, 2019, online <https://villachiragan.saintraymond.toulouse.fr/en/ark:/87276/a_ra_184>.