Hercules and the Augian stables
Date de création

End of the 3rd century

Material

Saint-Béat marble (Haute-Garonne)

Dimensions

H. 138 x l. 85 x P. 20 (cm)

Inventory number

Ra 28 j
The fifth of twelve Labours, the episode of the stables takes place in the kingdom of Elis, west of the Peloponnese. King Augias, son of Helios (the Sun) owned huge strings of horses, butut he neglected their stables to such an extent that the accumulating manure caused the surrounding land to become sterile. Eurystheus intended to humiliate Heracles/Hercules by entrusting him with this task of cleaning the stables, a chore usually only performed by slaves. To do so, the hero diverted the two rivers Alpheios and Peneios. By combining their currents, he generated enough force to clean the enclosure.
On the relief unearthed in Chiragan, only the hero is represented, his right foot resting on an overturned, unused basket. He stands watching the water, as it does this humiliating job for him. Yet again, his attitude is reminiscent of that of certain Greek gods, as portrayed at least since the sculptor Lysippus in the 4th century BC C. Rolley, La sculpture grecque , 2 : La période classique (Les manuels d'art et d'archéologie antique), Paris, 1999, pp. 333-334., and subsequently reproduced in Roman art. In the meantime, this pose was reiterated during the Hellenistic period in the form of statues and on coins, in reproductions of gods, guardians and founders. Also worth remembering is the famous series of tetradrachms on which Demetrius Poliorcetes, king of Macedonia, had himself depicted, probably based on a portrait statue of Alexander the Great (missing reference). In the Roman world, this same composition, combining nudity, a foot resting on a rock, or some warlike or allegorical symbol, together with the forward-leaning body, was adapted to the political context of the end of the civil wars, and to the world of portraiture by Caesar's heir, Octavian, who was thus portrayed to suggest his new position as master of the world R.I.C., The Roman Imperial Coinage. Volume I, From 31 BC to AD 69, éd. révisée, London, 1984, 256 ; J.-B. Giard, Bibliothèque nationale. Catalogue des monnaies de l'Empire romain, Paris, 1976, pp. Pl. 13-14.. This posture was also adopted by personalities who, although they did not enjoy such a military or political aura, nevertheless received homage in the form of a portrait. Such is the case of the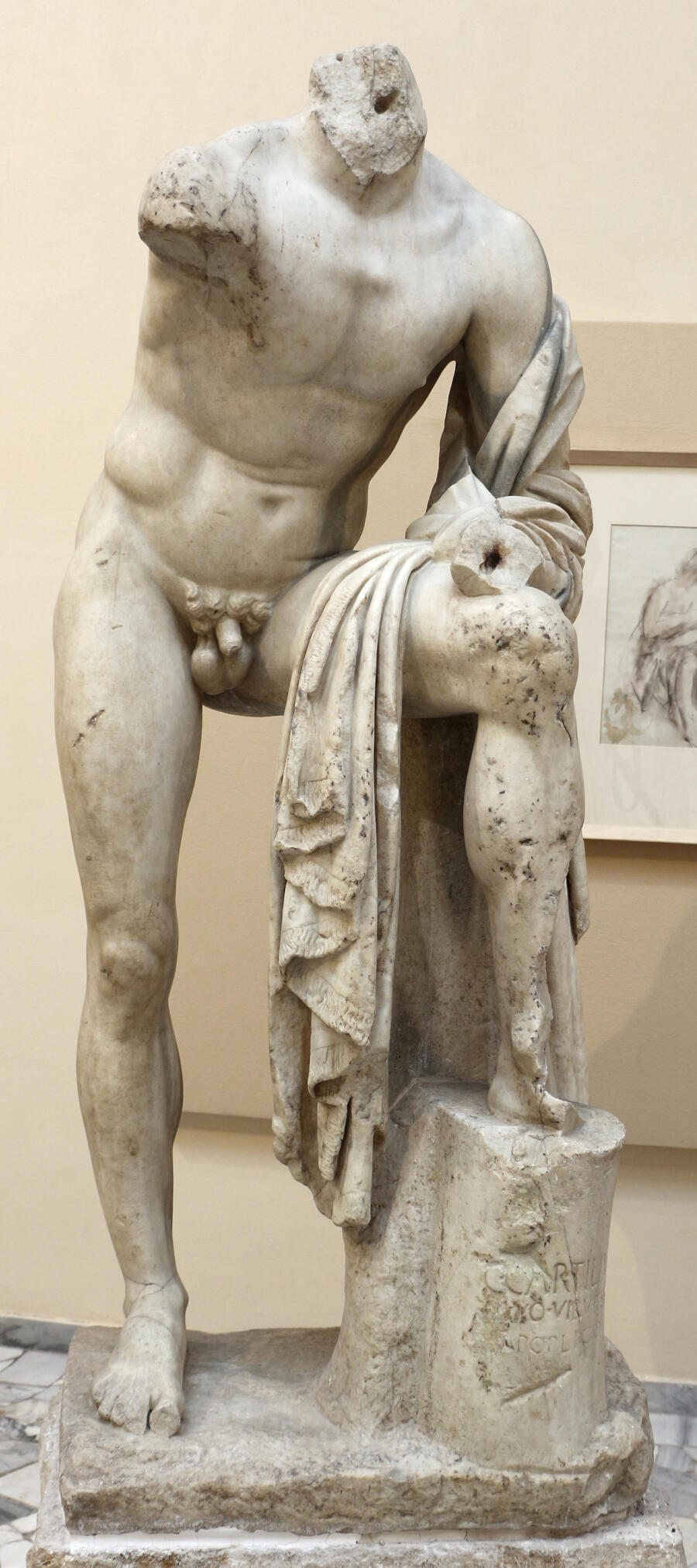 statue of the duumvir Cartilius Poplicola, discovered by the stairway to the temple of Hercules at Ostia, erected during the triumvirate in the years 40-30 BC.
As in the medium-sized statue, also from Villa Chiragan, depicting Hercules leaning on his club (inv. Ra 115), the hero's hand is held behind his back, a sign that he is resting after the action, in this case after having diverted the rivers Alpheios and Peneios. Finally, the change in Hercules's physiognomy is clearly visible; unlike the hairless face in the early works, here he has a full beard to prove his maturity. As his success grows, the son of Jupiter acquires wisdom, and as our hero moves closer to deification, his appearance changes to resemble those of Greco-Roman gods Jupiter, Pluto and Asclepius.
P. Capus
Bibliography
Bergmann

1999

M. Bergmann

,

Chiragan, Aphrodisias, Konstantinopel : zur mythologischen Skulptur der Spätantike

(

Palilia

), Wiesbaden

.

Cazes

et al.

1999

D. Cazes

,

E. Ugaglia

,

V. Geneviève

,

L. Mouysset

,

J.-C. Arramond

,

Q. Cazes

,

Le Musée Saint-Raymond : musée des Antiques de Toulouse

, Toulouse-Paris

.

p. 90-91

Du Mège

1835

A. Du Mège

,

Description du musée des Antiques de Toulouse

, Toulouse

. no 173, 178

Du Mège

1828

A. Du Mège

,

Notice des monumens antiques et des objets de sculpture moderne conservés dans le musée de Toulouse

, Toulouse

. no 83, 86

Espérandieu

1908

É. Espérandieu

,

Recueil général des bas-reliefs de la Gaule romaine, 2. Aquitaine

, Paris

. no 899

Joulin

1901

L. Joulin

,

Les établissements gallo-romains de la plaine de Martres-Tolosane

, Paris

. no 101

Massendari

2006

J. Massendari

,

La Haute-Garonne : hormis le Comminges et Toulouse 31/1

(

Carte archéologique de la Gaule

), Paris

.

p. 251, fig. 129

Mesplé

1948

P. Mesplé

, « Raccords de marbres antiques, »

La Revue des Musées de France

, July

.

p. 157

Rachou

1912

H. Rachou

,

Catalogue des collections de sculpture et d'épigraphie du musée de Toulouse

, Toulouse

. no 28 j

Roschach

1865

E. Roschach

,

Catalogue des antiquités et des objets d'art

, Toulouse

. no 28 d

Ziéglé

2002

A. Ziéglé

,

L'Hercule de Bordeaux

(

Les chefs-d'oeuvre du Musée d'Aquitaine

), Bordeaux

.

p. 13

S.N.G. n.d. S.N.G., Sylloge Nummorum Graecorum, Copenhagen

.
To cite this notice
Capus P., "Hercules and the Augian stables", in The sculptures of the roman villa of Chiragan, Toulouse, 2019, online <https://villachiragan.saintraymond.toulouse.fr/en/ark:/87276/a_ra_28_j>.